Heading Sub Title
What Is FMCG?
Fast-moving consumer goods (FMCG) are consumer products with high demand, cheap cost, frequent use, and typical quick consumption. This FMCG definition can be divided into four main sections.
Designed for frequent use:
The majority of FMCG products are useful often, if not daily. Products like bread, soap, and shampoo fall within this category.
Consumed quickly:
People use FMCG products fairly quickly. For instance, a customer might buy bread from a neighborhood bakery or a chain of bakeries and devour it the same day.
Have high demand: 
The demand for FMCGs is usually very high. This may be the case for a variety of reasons, including their accessibility or usefulness. An example of an FMCG product with strong demand would be soap — individuals tend to buy soap frequently owing to the need for cleanliness.
Low cost:
FMCGs are typically inexpensive, or at least less expensive than other marketable commodities. A good example is bread, which is frequently far more cheap than a designer purse.
These products are fast-moving because they move quickly from the point of sale to the place of consumption.
Heading Sub Title
Characteristics Of FMCGs
FMCG items are different from other kinds of products by a few essential features that characterize them. One of the best distributors companies Myanmar Golden Heart mentioned some characteristics of FMCG, which are:
From The Consumer Perspective
High availability: 
FMCG products are typically widely available in a variety of shops and supermarkets around the world. This makes it possible for customers to easily and hassle-free acquire these things.
Purchased frequently:
Products that customers regularly need, typically daily or nearly daily, are FMCGs. Peoples typically buy bread and coffee, for instance at least once every week.
Low buying effort: 
Consumers typically put out little effort to purchase FMCGs. For instance, most people are able to identify their preferred brand or type of shampoo without having to try it first. Thus, the majority of customers arrive at the business with a clear idea of what they want and make an immediate purchase.
Low cost: 
FMCGs typically cost less than other products on the market, consuming a smaller share of consumers' income.
Rapid consumption: 
The amount of time between purchasing the product and using it is relatively little, frequently only a few hours. For instance, you might buy a loaf of bread in the morning and eat it for lunch the same day.
From The Retailer Perspective
High turnover rate:
Due to consumer demand, FMCG sales are higher than sales of other product kinds. Retailers may now keep these products in stock for shorter periods of time, which eventually lowers prices.
Highly distributed:
These commodities must often be extensively accessible and spread across various places and regions due to their great demand and low cost. For instance, the same brand of bread might be available in numerous supermarkets around a town.
Low unit cost:
The FMCG market  typically has a cheap unit pricing for customers because of their strong demand and low cost. This implies that businesses can offer these goods at a discount and yet make a profit. As opposed to luxury goods, which typically have a high unit cost but low demand, the latter of which necessitates a higher selling price in order to maintain the retailer's targeted level of profit.
Non-durability:
FMCG products aren't made to last. This is as a result of their rapid turnaround from manufacturing to consumption. Additionally, because they are needed in huge quantities, manufacturers do not have to store them for extended periods of time, which enables them to sell for less.
Consistency in form, size, color and price:
Due to their standardization, FMCGs can be available in large quantities at a low cost. For instance, if a producer makes shampoo packets, each one is the same size and has the same amount of liquid inside. This implies that one knows exactly what they are getting when they buy a packet of shampoo from their neighborhood store.
Heading Sub Title
Types Of FMCGs
Depending on the sector they are available in, FMCG items are different types. These consist of:
Food and Beverages

Personal Care

Healthcare Care

Home Care
Food And Beverage:
Due to their short shelf lives and high turnover rates, food and beverage products typically fall within the FMCG market. The following examples of food products that are typically categorized as FMCGs:
Food that has been processed, like spaghetti, bread, and potato chips.

Food that is ready to eat, like chips or nut packages.

Beverages like soda cans, coffee cups, and bottles of water.
Personal Care Products:
Shampoo and toothpaste are examples of personal care items that fall under the FMCG category. Because they are regularly used by consumers, commonly purchased at low prices, and are not long-lasting. Lotions, hair dye, lipsticks, cosmetics, deodorants, bath soap, and other oral care items are examples of these.
Healthcare Care Products:
The FMCG category includes healthcare items since they are typically in high demand and generally available. These consist of items like condoms, syringes, bandages, plasters, etc.
Home Care Products:
Household items also fall under this category since they are frequently standardized. Low-durability products that are widely available for sale at typically cheap unit prices. They include dusters, toilet paper, bleach, cleaning supplies, and kitchen towels.
Heading Sub Title
FMCG (Challenges)
The fierce competition in the FMCG market has compelled brand owners to engage in combat. They've been compelled to join the fight to maintain their position of dominance. The only ways to connect with customers in the modern market are no longer through customization and specially crafted products. Instead, it's about innovation, quicker deliveries, cost-effectiveness, and timeliness, as well as quality, utility, and unmatched features.
Consumer goods companies are expanding their search for new clients in new markets across the world in order to remain competitive in today's market. Brand owners are increasingly offering a bewildering variety of local product variations through a sophisticated network of outsourced production partners in order to cater to these new client segments.
The dynamics have changed as a result of globalization and expansionist objectives in globally integrated marketplaces, and consumer goods companies have gone into overdrive as a response. All of this has led to an increase in the supply chain system's complexity and sophistication, which has negative effects including higher inventory levels than anybody could have anticipated, a lack of working capital for innovation, and poorer profits. We'll look at a few of the FMCG supply chain issues that businesses must solve to be competitive in this post.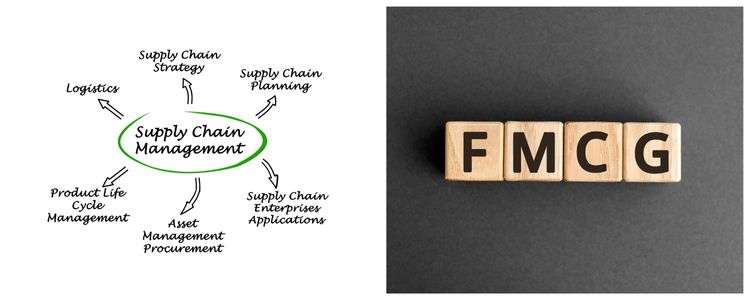 Heading Sub Title
FMCG Supply Chain Challenges
1. Inadequate infrastructure
A successful FMCG supply chain system needs a solid infrastructure. When there is a lack of a sound infrastructure, the cost of logistics as a whole skyrockets, which has a big impact on delivery and operational effectiveness. The FMCG market has many difficulties, including bad roads, an imbalanced transportation system, and a lack of technical assistance. It needs to be taken into account and resolved beforehand.
2. Availability across all channels of distribution
Using a variety of distribution methods, the FMCG supply chain must make sure that products are accessible on shop shelves twenty-four hours a day, seven days a week. However, because businesses must work with a wide range of stakeholders, such as various retail chains, several different warehousing companies, and a large number of clients, it is easier said than done. The issues worsen when they attempt to reduce logistical costs while dealing with availability issues. Large packing reduces shipping and packaging expenses, but it also puts businesses in danger of losing market share. On the other side, smaller packs drive these twin prices through the roof, ensuring improved availability almost constantly. As a result, FMCG companies are testing out novel and creative strategies in an effort to strike a delicate balance between market penetration and logistical costs.
3. The FMCG industry is dealing in issue with the tax 
Another issue in the FMCG supply chain is the urgent need for tax rationalization because excessive taxes not only burden traders and drive up transportation costs but also encourage them to smuggle goods across state lines and into other countries. As a result, the government receives less money from taxes due to various illicit activities including tax evasion and human trafficking. With the introduction of the GST and the repeal of other pointless taxes, India, on the other hand, is moving in the right direction.
4. Close collaboration and accountability
Real-time data enhances visibility, helps FMCG companies and their supply chain partners make quick choices, and helps them find original solutions to issues. These revolutionary insights allow businesses to constantly monitor shipments and receipts. Additionally, it enables them to modify their strategy and efficiently use their resources in order to meet the changing demands. For efficient operations and increased traceability, there must be close coordination across the various FMCG supply chain sectors, including suppliers, shippers, transporters, warehouses, and customers.
In today's highly volatile, complex, and outsourced consumer products market, actionable, real-time supply chain information is difficult to come by. This problem can be solved through multi-tier visibility. This enables partners to communicate with one another in both directions and makes forecasts and orders more visible sooner. Brand owners may proactively manage variable demand when they have access to data on actual shipments and receipts as they happen. This data offers insight into stock-in-channel inventories and point-of-sale (POS) information.
5. Modern retailing's ascension
Large departmental or discount stores in the West have a strong presence among FMCG companies and have garnered sizable market shares. Due to their bargaining power, they might demand significant discounts from FMCG companies. Like in developed nations, contemporary retailers in India have been seeking to increase their margins from FMCG companies in order to give better deals to their clients. Contrary to the West, distribution margins have always been fairly low in India. As a result, it is challenging for India's FMCG market to offer the kind of large discounts that contemporary retailers have sought.
In order to avoid channel conflicts, FMCG companies will have to work around their current Stockists and distributors. On the other hand, they must take into account how larger discounts in contemporary commerce will affect the entire distribution system. Private label products are likely to be launched by contemporary retail chains. It will pose a significant threat to existing producers.
6. Counterfeit goods are a threat
India has one of the greatest consumer bases in the world thanks to its constantly growing population. In the very competitive market of today, price attracts customers more so than quality. This has been fully exploited by manufacturers of counterfeit goods, who have flooded the market with an abundance of look-alikes that are essentially subpar copies of their real, branded counterparts. Counterfeit items hurt businesses because they rob them of profits from slow sales and permanently damage their reputation. In addition, customers wind up getting a raw deal because, despite paying, they still obtain cheap products that pose serious health and safety hazards.
7. Entry of third-party logistics
Thanks to third-party logistics partners, consumer goods companies now have a competitive edge. As they can strategize and concentrate on their core business activities without worrying about whether their products are reaching their target clients. Companies can use this to streamline activities that need immediate attention, restructure resources, and allot time.
On the other hand, the sales pattern in the consumer goods industry is extremely chaotic and unpredictable. This puts more and more pressure on these third-party solution providers. Despite these challenges, it seems that 3PL partners have developed a solid understanding of the industry and have come up with ways to address these issues.
8. Conflicting KPIs that actually discourage efficient supply chain management
Data from every link in the value chain is integrated to produce sophisticated business analytics. This offers distinct insights into demand trends, corporate operations, and customer service needs. The supply chain's major participants must, however, be in agreement over what they are measuring and the resources they are using to interpret the data in order to fully capitalize on this insightful insight. The secret to efficient supply chain orchestration and risk management is a common planning and execution process layer coupled with the proper business analytics.
Heading Sub Title
Conclusion
Businesses must enhance the performance of their FMCG supply chains if they want to compete globally. Indian businesses would benefit from learning from businesses in industrialized economies. They have greatly enhanced the effectiveness of their supply chains. Supply chain management systems, whether local or international, are crucial for business expansion and market competitiveness.