What is Engine Oil?

Elements of Engine Oil

What is engine oil for?

What are the main benefits of engine oil?

Things You Should Consider While Choosing an Engine Oil

Conclusion
Engine oil, often referred to as motor oil, is used to cool internal combustion engines while they are running and lubricate the engine's internal parts.
Grade and viscosity are helpful in ranking engine oils. Any oil can either be single-grade, acting at a single level of viscosity, or multi-grade, acting at two different viscosities based on temperature. The latter is currently more common in order to accommodate vehicles used year-round in a variety of situations. The viscosity grade scale, which has 11 grades with a range of 0 to 60, is helpful in quantifying the flow rate of both single-grade and multigrade oils. Oils with lower rankings are thicker than those with higher rankings, making them more suited for hotter settings.
The base stock and additives are the two main components. 95 percent of the solution often consist of base stock, which typically either consist of synthetic chemicals, petroleum, or a combination of the two. The base stock is in charge of dissipating accumulated heat and lubricating the moving elements of an engine. The additives, on the other hand, make up around 5% of the oil, and it is these compounds that are in charge of precisely regulating the oil's lubricity and viscosity as well as shielding engine parts from wear. For instance, magnesium sulphonates aid in the oil's ability to break down pollutants and engine sludge, while zinc dialkyldithiophosphate (ZDDP) is a regularly available additive for preventing wear.
For an engine to function properly over time, engine oil serves many functions. Myanmar Golden Heart mentions the most significant below:
1. Lubrication
The main job of engine oil is to lubricate the moving parts of engines, which are subject to friction all the time. As a result, there is less friction, which tends to shorten the lifespan of engine parts.
2. Cooling
Through combustion, energy is wasted, and mechanical parts rubbing against one another raise engine temperature. Through the lubrication circuit, the engine oil's partial lubrication aids in cooling the system. It complements the coolant, which solely cools specific engine components.
3. Cleaning
The ability of motor oil to clean is crucial despite being less well understood. Microscopic deposits accumulate and stay in suspension in the engine. They could be made of dust or combustion byproducts. Without engine oil, the buildup would cause the engine to clog and run less well. These contaminants are continuously carried by the engine oil flow to the oil filter, where they are collected.
4. Protection against corrosion
Acid produced by fuel combustion can corrode engine metal components. Corrosion is slowed down by the chemicals added to modern engine oils. However, engine oil may oxidize with time and when exposed to oxygen, losing its ability to prevent corrosion. Because of this, engine oil needs to be replaced frequently.
5. Sealing
Additionally, engine oil improves engine sealing, specifically the sealing of the pistons and cylinders. Between the various components, a shield is placed, blocking off any potential gaps.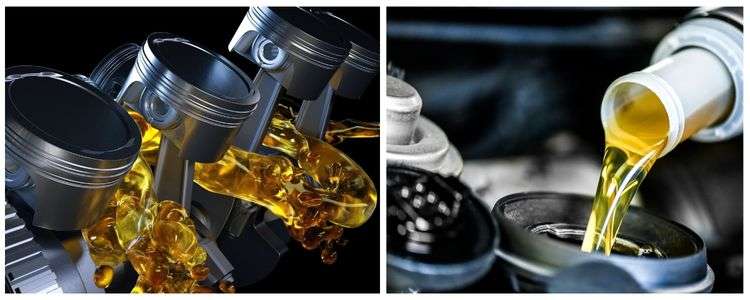 What are the main benefits of engine oil?
First and foremost, engine oil saves car owners money on repairs. Without a lubricant, the engine would suffer severe damage very rapidly. Specifically, this is what high-quality engine oil provides.
1. Ensures a longer engine lifespan
By reducing friction between parts and cleansing the entire engine, engine oil shields the engine against blockage and damage. Mechanical parts last longer and rust less. The engine functions better and lasts longer as a result.
2. Ensures proper running of the engine
A well-oiled engine performs better. In fact, proper lubrication is necessary to prevent major mechanical damage. Cost of maintenance is impacted in addition to engine performance.
3. Decreases fuel consumption and CO2 emissions
The friction that results from excessive engine oil use or a low oil level changes the engine's energy efficiency, which in turn raises fuel consumption. A high-performance oil also lessens atmospheric pollution releases.
Things You Should Consider While Choosing an Engine Oil
When choosing the right oil for the engine of your car, you have a lot of options. To assist you in your quest to replace your oil, the guide from Myanmar Golden Heart dissects your options.
1. Car manufacturers and series
Knowing the make and model of your car is the first step in selecting the proper engine oil. Newer oil formulas have been developed to assist keep up with these upgrades while new high-performance engines are being created to increase efficiency.
2. Driving Environment
Whether you often drive on paved or unpaved roads, live in a hot or cold region, or both, you should consider the conditions you frequently encounter while driving. Your car may experience stress from many situations in different ways, as when it needs frequent engine oil changes. When determining which motor oil is best for you, it's crucial to take into account the local driving and environmental conditions.
3. Type of Engine Oil
You can choose between mineral and synthetic engine oil after you know the vehicle's make and model. Your choice of oil type is crucial because the base oil makes up between 80% and 90% of engine oils. Knowing which type of oil best suits your automobile and driving style is essential because each type of oil has advantages and disadvantages.
4. Viscosity grade
You could discover perplexing codes with numbers and letters on the package of motor oil brands when comparing them. These show the viscosity grade, which is a gauge of the oil's flow resistance. When looking for the best engine oil, it is crucial to take into account this aspect in addition to the weather and driving circumstances.
The viscosity of an oil is determined by two numbers. Winter is represented by the letter "W" at the end of the first numeral. When an engine is starting up, for example, this measurement relates to how an oil flows when it is cold. According to how an oil flows at standard operating temperatures, the second number is determined.
At lower temperatures, thin, low viscosity oils can flow more easily to shield engine components. In general, thick, high viscosity lubricants keep film strength better to safeguard engines at greater temperatures. By checking the oil cap or the owner's manual, you can determine the proper viscosity for your car.
5. Oil standards
Engine oil standards are also listed on the label, and they are denoted by various acronyms including API, ACEA, and ILSAC. This indicates that the product satisfies or beyond the standards established by these organizations. Specifications are crucial since they reveal the functionality and caliber of the oil.
Understanding engine oil and selecting the best option for your automobile might be challenging, but doing so will lengthen engine life and improve engine performance. The next time you're looking for the best oil to enhance your engine's performance, keep these five factors in mind.
6. Choosing the right lubricants
Use the viscosity grade(s) suggested by the original equipment manufacturer (OEM) for the lifetime of the engine, particularly during the engine's warranty term, to select the proper lubricant for your cars. The acceptable viscosity grades are mostly determined by the anticipated environmental temperatures, especially the starting temperatures.
7. Quality certification or performance level
For diesel engines, the quality levels are denoted by the letter "C" and a second letter that is assigned in the alphabetical order, starting with "A" for the performance that is lowest and ending with "J" for the performance that is most recent. Additionally, the engine's warranty is subject to certain OEM performance restrictions for a few applications.
Read more: Complete guide to FMCG Products.
If you think we have mentioned all the necessary information related to Engine oil then please let us know in the comments. Also if you think we have missed out something really important or you want to know more about this topic, please reach out to Myanmar Golden Heart.