Heading Sub Title
Table of content
WHAT IS FMCG IN DISTRIBUTION?

UNDERSTANDING THE FMCG DISTRIBUTION CHANNELS

STRUCTURE OF FMCG DISTRIBUTION CHANNELS

WHAT FUNCTIONS DOES DISTRIBUTION PLAY IN A COMPANY?

HOW DO DISTRIBUTION CHANNELS WORK?

3 HISTORICAL TYPES OF MARKETING DISTRIBUTION CHANNELS
Heading Sub Title
What is FMCG in Distribution?
FMCG products transportation takes place from manufacturers to consumers along distribution channels. They serve as conduits for the movement of information, goods, and money throughout the system. While some FMCG producers prefer working directly with customers, the majority of producers use a distribution network to get their products to customers.
Setting up a distribution channel requires careful planning, clever thinking, work, and investment. A significant portion of total marketing expenses consist of distribution channel margin and management costs.
Even from the standpoint of the general public, creating a distribution channel creates new employment prospects for laborers and aids in making FMCG products accessible to people across a broad socioeconomic spectrum.
A strong distribution network like Myanmar Golden Heart gives manufacturing organizations an advantage over their rivals from a competitive standpoint. Channel management and distribution are thus crucial components of a company's overall business strategy.
The majority of manufacturing businesses in India struggle to plan, build, and efficiently manage the distribution chain.
Heading Sub Title
Understanding the FMCG Distribution Channels
The components of distribution channels can be studied in order to better understand them. Distribution channels consist of various separate corporations that collaborate with manufacturing firms to transfer goods from the point of origin to the final consumer.
According to Myanmar Golden Heart, there are three significant individuals that make up FMCG distribution channels: agents, merchants, and facilitators.
By advertising a company's goods, agents increase sales, although they never stock or purchase the item themselves. An agent may be a freelancer or an employee of the business.

Retailers, wholesalers, and other types of merchants buy and stock the goods in large quantities before selling them to other merchants or occasionally to the consumer directly. The majority of the time, merchants operate independently, although occasionally a manufacturing facility has its own wholesale or retail divisions.

As the name suggests, facilitators make it easier for produced goods to be transported from one location to another. Logistics companies, warehouse owners, and independent distributors who only handle the storage and delivery of manufactured goods—not their marketing or trading—are examples of facilitators.
These three entities are useful in creating FMCG distribution channels based on market demands, product types, and competitive strategies.
Heading Sub Title
Structure of FMCG Distribution Channels
Different countries have different FMCG distribution channels. However all channels may be explained by applying straightforward ideas like directness, levels, density, diversity, and novelty.
Directness describes interactions between producers and consumers that take place without the involvement of a third party. When a manufacturer supplies goods to a customer through distribution networks, this is known as indirect distribution.

The term "level" describes how many channels can move a product from the manufacturer to the final consumer. Manufacturers work with franchise dealers in the auto industry, who then sell the items to the final customer. This channel has one level. Manufacturers frequently sell their products to wholesalers in the FMCG sector, who then sell them to retailers, who then sell them to consumers. This waterway has two levels.

The number of outlets that are present in a specific area is density. A distribution channel is classified as exclusive or intensive based on the number of outlets. Automobile distribution, which has fewer outlets in a city and is exclusive, is different from the distribution of soap, which has a large number of outlets, including wholesalers, supermarkets, and grocery stores.

Variety describes the different kinds of outlets where a product is sold. Given that they are offered in a number of locations, including paan shops, grocery stores, canteens, supermarkets, general stores, and even online, biscuit distribution may be very diverse. Given that sarees are sold only in specific stores, the distribution may be of low variety.

Novelty describes the fresh methods that manufacturing firms use to distribute their goods. Vending machines and online commerce are both very new to India and are seen as novelties.
Heading Sub Title
What Functions does Distribution play in a company?
The ultimate goal of manufacturers is to sell their products, and most manufacturers will participate in the process as middlemen.
Manufacturers provide a path for the product's transportation via a physical location, a chain for its movement, a price tag for it, and a shelf where it will be put on display for customers to reach for.
These chains' links are intermediates. They could be organizations or people who take on roles as wholesalers, retailers, brokers, or anything else that eventually brings the product closer to the customer at their own cost and with their own added value.
Heading Sub Title
How do Distribution Channel work?
When distributing the product from the maker to the buyer, the distribution channel or actor may be involved in many ways, to varying extents, at various stages, and at varied prices. One or more intermediates may undertake any one of a number of tasks that make up the distribution channel role.
The purpose of distribution channels is to reduce the number of transactions that items must undergo on their way to their final location. Retailers and wholesalers split the bulk. This implies they place bulk orders with the producer for their goods and then market individual items to the final consumers. In order to provide customers more options, channel intermediates construct assortments by sourcing various FMCG products.
Distribution routes' primary duty is to be highly effective. Another duty of distribution channels is transportation and storage, both of which must be used as efficiently as possible. Retailers and wholesalers will relocate the products from one place to another to store them until there is a market for them.
Read more: Scope of good startups in the FMCG market.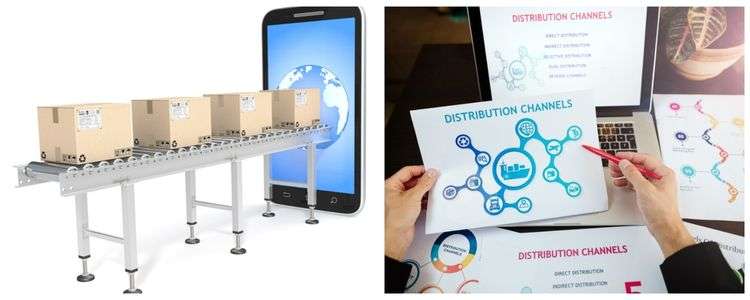 Heading Sub Title
3 Historical Types OF Marketing Distribution Channels
As we've already established, the distribution channel affects many other marketing choices, including the cost, the creation of the product, the management of the workforce, the organizational structure, etc.
This article attempts to show you instances of effective tactics using various channels of distribution as well as pitfalls to watch out for when selecting one or the other.
If you think you need to develop, modify, or enhance your distribution plan, keep reading. Myanmar Golden Heart hopes that you will fully utilize it.
Heading Sub Title
Type 1. Direct sales
Any product that is in the center of the price range, is not bought every day, and has a lengthy shelf life can be sold well through direct sales. among them: office supplies, jewelry, or air purifiers. It would entail the manufacturer finding a way to speak with clients directly, avoiding the use of any market intermediaries, and making the deliveries themselves.
Direct distribution has become quite popular thanks to the internet and e-commerce, but since e-commerce is so specialized, we have given it its own section at the end of this article.
Direct distribution marketing's most crucial component is communicating with the final consumer. Make sure the message you are conveying is the correct one.
Heading Sub Title
Here are some tactics to promote direct sales:
Heading Sub Title
Features:
A potential consumer will want to determine whether your product can benefit them as soon as you make contact with them. The features of your product as well as its use should be the foundation of your conversation. If the features do not satisfy the customer's needs, they will not be enthusiastic.
Heading Sub Title
Advantages:
If you have the customer's attention, you will be able to defend your product against the competition after outlining the features. What distinguishes your product?
Heading Sub Title
Benefits:
Give your customers the reasoning behind how using your product will help them solve their problems. Tell them how it will help them save time, earn money, or solve their organizational problems.
Heading Sub Title
Intimacy:
Become personally acquainted with the user. You have their attention at this stage in the dialogue, but you have not yet sealed the sale. Take the time to persuade them that you are thinking of their best interests; deviate from the subject if necessary.
Heading Sub Title
Reciprocity:
Make the consumer happy. To get their attention, offer them free samples, discounts, or an affiliation code. Create the impression that the favor is unique. Every time a customer thinks you've done them a favor, they'll feel compelled to return it. They will feel compelled to help you out of a sense of obligation, and this irrational feeling will produce an imbalance in the situation they are trying to correct.
Heading Sub Title
Reasoning:
Studies indicate that offering numerous reasons, even if they are obvious ones, improves your chances. Never stop thinking about reasons. Don't merely presume that the buyer can reason for themselves. Don't be scared to say the obvious, in other words.
Get to know your customers better by finding out when and how they wear their running shoes. Tell them how you think they can use it. Inform them that you are not simply selling them shoes. You are offering them a way to a fit and attractive figure. After then, request a favor in return and seal the deal.
Heading Sub Title
Disclaimer:
Remind the client that they will have an option once more to seal the purchase. Even if they can buy the item now, they will need to decide whether to accept it when it is returned to the delivery person. Even then, consumers have 30 days to return their purchase. And even then, customers are still eligible for a replacement or shop credit within the following 60 days. They can still make a decision.
Heading Sub Title
Small steps:
The consumer might not want to start a fresh connection if you keep getting "No" responses. Set a foot inside the door. Just request a meeting. Begin a relationship, then progress from there.
Heading Sub Title
Affiliate:
The customer is unwilling to accept your offer for whatever reason. Make a good connection and request a referral. Do they know of anyone who could be looking for your services? Demand a contact from them.
Heading Sub Title
Type 2. Brokers and distributors
A manufacturer may decide to directly assign some of their tasks to agents and brokers if they opt to deal with those Intermediaries. In that they represent the producer before the final consumer, they serve as an extension of the producer.
Take the food industry, for instance.
The food producer would have to provide the stores their own production before using a middleman.
And with lesser vendors, that is typically the case. However, as the company grows, they will search for different ways to deliver their produce to the store.
A broker would handle the sales, or a distributor would make sure the products reach stores in various places.
Heading Sub Title
Advantages of adding a broker to a distribution network
The broker, who would then be in charge of the offerings to the stores, and the manufacturer would enter into a contract. Typically, brokers are not in charge of the actual shipping. The broker is mostly in charge of closing the deal.

A broker would have a list of manufacturers in a specific region in their portfolio. Their motivation is to entirely meet the needs of the important shops they work with.

Brokers will choose their portfolio members extremely carefully. Unless they are certain the store would include their products, they won't propose a manufacturer as a part of their range. As a result, they frequently have easy access to merchants and solid working connections with them.

Vendor sales expenses would be set. In addition, they will provide further services like invoicing, inventory management, sales reporting, and others in exchange for their taxes.
Heading Sub Title
Disadvantages of adding a broker to a distribution channel
Brokers are getting a large percentage of the overall production's price, typically between 5% and 10%.

They won't be responsible for the product's shipping at the same time.

Brokers have little incentive to learn about a product or introduce it as a new line to a retailer. Typically, their services don't include promotion.

A whole line may be eliminated from the broker's portfolio and replaced by another, more profitable line if sales of one of the manufacturer's goods slow down.

The vendor will handle the logistics, refunds, and invoicing.
Heading Sub Title
Type 3. Wholesalers/Retailers
Working with wholesalers and retailers is typically recommended as a distribution chain link since they buy the goods directly from the producer and assume the risk if it doesn't sell well.
For digital products, working with resellers is perfect.
Here are a few tactics for developing and preserving a bond with your resellers:
Heading Sub Title
Create a base:
Companies may profit from asking large customers if they want to become resellers for the brand in addition to conventional wholesalers and retailers. Make an offer to them that they cannot reject.
Heading Sub Title
Your relationship must be profitable for both sides:
Take an interest in the performance of your resellers and find out what they think about the relationship between their success and the things you are selling.
Heading Sub Title
Communication is key:
Ensure that your reseller's efforts and workflow are a perfect match for your duties and plans. Make sure that the products reach the customer without incident, but don't let normal business problems get in the way.
Heading Sub Title
Build a relationship:
Regardless of the reseller's reach or profitability, make the effort to incorporate them and integrate them into your company culture. Promote loyalty and trust.
Heading Sub Title
Allow your resellers to know your product:
Resellers frequently have the attitude that they are in the sales industry, not the consulting one. Prepare brief, simple-to-understand presentations or handouts that they can use or give to their clients.
Heading Sub Title
Gather feedback:
Manufacturers and resellers share the same objective. to release additional goods onto the market. The gathering and analysis of customer feedback for the manufacturer may improve brand perception, customer loyalty, and the development process.
You can also add a comment below this blog of Myanmar Golden Heart and provide us your feedback.