Heading Sub Title
Table of content
What is FMCG?

FMCG Market Size

Business Model of FMCG Companies

FMCG Marketing Strategies

Top 10 Biggest FMCG Companies in World

Conclusion
Heading Sub Title
What is FMCG?
Fast-Moving Consumer Goods, or FMCG, The direct-to-consumer industry offers products that are in high demand, sell quickly, and are extremely reasonably priced. These are additionally referred to as CPGs (CPG). Due to their frequent usage in our everyday lives, the products in these industries move quite swiftly because they are easy to supply and sell from stores and supermarkets.
The FMCG industry boasts some of the most popular brands in the world. Such as Coca-Cola, Nestlé, PepsiCo, JBS, Procter & Gamble, Unilever, and many others. Working in this field always has its benefits because it opens up fantastic career prospects. According to Myanmar Golden Heart, these are the top most popular FMCG companies all over the world.
Heading Sub Title
FMCG Market Size
By 2020, the FMCG sector will have grown to US$ 103.7 billion from its peak of US$ 52.75 billion in FY18. Hence the FMCG industries grew by 7.1% in the final two months of 2020 thanks to the food, hygiene, rural, and health sectors.
The FMCG industry has high revenue growth when product demand rises in the rural sector. Approximately 36% percent of the overall FMCG industry spending is contributed by rural areas. The FMCG business saw up to 10.6% of growth recovery as a result of the government's significant efforts to improve the hygiene and health of rural areas.
However the government's efforts to increase agricultural production, reduce unemployment, and promote rural areas through reverse migration. When such actions are taken, the FMCG sector makes significant financial gains.
Heading Sub Title
Business Model of FMCG Companies
The market for fast-moving consumer goods (FMCG) is well-established. However these sectors have consistently demonstrated that consumers can trust them to make trustworthy purchases from them. A brief while ago, FMCG was viewed as inappropriate for entering the commercial industries. However, as time went on, a lot of young businesspeople or entrepreneurs began interacting directly with customers about the product, and, surprise, it earned a lot of praise and success. It turned out that this was the FMCG business model. Hence by avoiding retail and charging at wholesale rates, this type of company model engages with customers directly. Additionally, it gives FMCG companies the chance to establish their place in the market, supporting and assisting them in doing so. Hence different categories and some really creative business concepts are there with the FMCG business model. FMCG sectors rely heavily on the internet for business. Given these facts, it's safe to claim that the FMCG industries have excellent business structures and encourage creative thought. In this essay, we'll go over some different business models and how the FMCG industry generates revenue.
Let's take a quick look at a few of the FMCG industries' data-driven business models with Myanmar Golden Heart.
Premium Service Model
Excellent customer services are provided via Premium Service Model. It offers a premium cost that is associated with signing up for the service. It offers significant advantages and entices customers to sign up.
Retailers benefit from the added revenue that targets customers more consistently and makes functional improvements for them thanks to the growth in business insights. The average basket size is in the premium service model, which also encourages customer loyalty and increases revenue.
Differentiator Service Model
Customers can receive some extremely enhanced benefits from the differentiator service model as well as the opportunity to make the same purchases repeatedly. Additionally, it offers incentives that encourage buying.
The Differentiator Service Model ensures strong client loyalty and boosts basket size by encouraging recurrent purchases of the same goods. However, the shop has access to every detail about the buyer, including their email, contact information, past purchases, and much more.
Return on Advantage Model
The Competitive Advantage Model, also known as the Return on Advantage Model, focuses on generating business insights for the development of new goods by fusing internal transactional data with outside data. This aims to improve client segmentation and the interactions across online and offline platforms.
To improve its capabilities, this company model concentrates on client segmentation. In order to better target the clients, the purchasing patterns are compiled and identified in this way.
Heading Sub Title
FMCG Marketing Strategies
With the help of cutting-edge marketing techniques and devoted clients, FMCG Industries has established a strong position in the market. Here are a few of the FMCG industry's marketing tactics mentioned by Myanmar Golden Heart.
Multiple Branding
Multiple branding is one of the most exciting strategies used in FMCG marketing to retain the interest of potential customers and maintain a dominant market position. Using this strategy, the business fosters fair competition among product categories for the same brand.
Product line Building
Line of goods By changing the names, the building offers a wide selection to the clients based on their preferences. A business produces the same product for various consumer needs and sells it in accordance with those needs. However, since each of these products has a different target market, there isn't any particular competition amongst them.
Huge Distribution Network
One of the most crucial marketing techniques based on key locations is a vast distribution network. This makes it easier for the product to find all of its potential clients.
New Products Development
The business frequently changes its items before getting rid of the outdated, inconsistent ones. They are able to maintain standards and compete in the market thanks to this. The business continued to develop new features for their existing goods while pursuing this strategy. They replace the older ones with these after customizing the product to meet the needs of the customer.
Flanking
One of the extremely intriguing FMCG marketing techniques is flanking. It offers the same product in several packaging and volume sizes. This encourages the customer to stick with the brand and buy the goods when it best suits their needs. This increases the likelihood that customers will buy the product.
Brand Extension
In order to maintain its strong position in marketing, a corporation typically produces more items under the same name but with distinct features in order to generate significant sales. Brand extension strategy is very important since it increases brand value and swiftly reaches the target audience.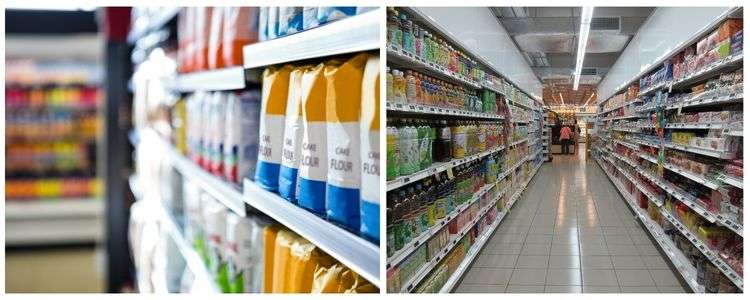 Heading Sub Title
Top 10 Biggest FMCG Companies in World
Myanmar Golden Heart presents the list of the top 10 largest FMCG companies in the world, arranged according to revenue and nationality.
1. Nestle
The biggest food and beverage corporation in the world is Nestle. The company operates in 187 countries and has more than 2000 brands, ranging from local favorites to global classics. among the top fmcg brands, largest.
Gross sales: $ 94 billion

Nationality: Switzerland
The Anglo-Swiss Condensed Milk Company was established in 1866, marking the beginning of Nestle's fmcg manufacturing career. The biggest FMCG company in the world is Nestle.
In 1867, Henri Nestlé created a revolutionary baby food, and in 1905, the company he founded combined with Anglo-Swiss to create the Nestlé Group. During this time, cities expand, and the development of railroads and steamships lowers the cost of commodities, promoting commerce in fmcg products internationally.
2. Procter & Gamble Company
The Procter & Gamble Company (P&G), an American multinational consumer goods company with its headquarters in Cincinnati, Ohio, was founded in 1837 by William Procter and James Gamble, among the best global FMCG brands.
Revenue: 67 billion dollars

Nation: The United States
The FMCG industry specializes in a broad range of personal care, consumer health, and hygiene products. Hence these items are divided into numerous categories, including beauty, grooming, health care, fabric & home care, and baby, feminine, & family care. second-largest FMCG brands worldwide.
Prior to being sold to Kellogg's, Pringles' product line also comprised a variety of meals, snacks, and drinks. Ohio is where P&G is incorporated. The business is among the largest US manufacturers of consumer goods.
3. PepsiCo
In more than 200 countries and territories, PepsiCo products are useful for daily use by more than one billion people. Considering revenue, PepsiCo ranks third among FMCG companies.
Including Frito-Lay, Gatorade, Pepsi-Cola, Quaker, and Tropicana in its complementary food and beverage portfolio, PepsiCo produced more than $67 billion in net revenue in 2019.
Gross sales of $65 billion

Nation: the United States
In 1965, Herman Lay, the CEO of Frito-Lay, and Donald Kendall, the CEO of Pepsi-Cola, recognised what they later referred to as "a marriage made in heaven"—a single business that provided perfectly salted snacks alongside the best cola on earth. They were ambitious, and PepsiCo, one of the world's leading food and beverage companies, was formed as a result.
However the product portfolio of PepsiCo includes a variety of fmcg producers of tasty foods and drinks, including 23 brands with estimated annual retail sales of over $1 billion each. Based on sales, the company ranks third among the largest US FMCG companies.
4. Unilever
For more than 120 years, Unilever has been a leader in its field. To feel good, look beautiful, and enjoy life more, the Company's products will be beneficial for 2.5 billion people today. one of the leading FMCG Brands.
Revenues: $60 billion

Nation: The United Kingdom
Among the 12 Unilever brands with a yearly sales of more than €1 billion are Lipton, Knorr, Dove, Rexona, Hellmann's, and Omo. among the world's leading producers of FMCG products.
Three divisions make up the company's operations. In 2019:
With a €21.9 billion revenue, Beauty & Personal Care accounted for 42% of our total revenue and 52% of operating profit.

The €19.3 billion in revenue generated by Foods & Refreshment represented 37% of our total revenue and 32% of operating profit.

Home Care contributed €10.8 billion in revenue, or 21% of our overall revenue, and 16% of operating profit.
Consumers utilize more than 400 Unilever brands, which are offered in 190 countries, according to the FMCG manufacturing company. In 2019, the company had sales of €52 billion.
5. JBS S.A.
In the international food industry, Brazilian multinational JBS S.A. is a pioneer. The Company, with its headquarters in Sao Paulo, operates in 15 nations. However the business is on the fifth among the top fast moving consumer goods companies.
Bringing in $ 49 billion

Nation: Brazil
JBS offers a wide range of products available, from fresh and frozen meats to prepared meals. Hence these products are sold under well-known names in Brazil and other nations. It includes Friboi, Swift, Seara, Pilgrim's Pride, Plumrose, and Primo, among others.
Additionally, the company engages in creative complementary industries that contribute to the sustainability of its whole value chain, such as leather, biodiesel, collagen, natural cold cut casings, hygiene & cleaning, metal packaging, transportation, and solid waste management solutions.
6. British American Tobacco
A top-performing FTSE firm with true global credentials, British American Tobacco. Our regions—the United States of America; the Americas and Sub-Saharan Africa; Europe and North Africa; and Asia-Pacific and the Middle East—are dispersed throughout six continents.
$33 billion in revenue

Nation: The United Kingdom
Few manufacturers of consumer goods can boast daily consumer interactions of over 150 million and distribution to 11 million places of sale in more than 180 regions. one of the top fast moving consumer goods companies.
Around the world, there are more than 53,000 BATs. Many of us work from offices, manufacturing facilities, tech hubs, and R&D facilities. The company ranks sixth among the best fmcg manufacturers in the world.
7. The Coca-Cola Company
On May 8, 1886, Dr. John Pemberton visited Jacobs' Pharmacy in Atlanta, Georgia, and handed a customer the first bottle of Coca-Cola. From that one renowned beverage, The Corporation expanded into a full-service beverage company.
The business purchased Minute Maid in 1960. That was the first action taken to become a full-service beverage firm. The company is passionate about beverages, offering 500+ brands in 200+ countries, including Coca-Cola, Zico coconut water, and Costa coffee.
Income: 32 billion dollars

Nation: The United States
With more than 700,000 employees across the firm and bottling partners, the Company's workforce is as diverse as its communities. one of the leading US companies for the manufacture of FMCG products. On the list of top fast moving consumer goods companies, the company is on the seventh.
8. L'Oréal
L'Oréal has been a pure player and a global leader in the beauty industry for decades, starting with the creation of the very first hair color in 1909 and continuing today with our cutting-edge Beauty Tech products and services.
Revenue: 32 billion dollars

Continent: France
All cultural roots are present in the Company brands. a flawless fusion of brands from Europe, America, China, Japan, Korea, Brazil, India, and Africa. The company has developed the most culturally diverse brand selection, which is still unmatched in the market.
However the company offers a huge selection of goods in all price ranges and across all product categories, including skincare, cosmetics, haircare, hair color, perfumes, and hygiene. among the top FMCG brands.
First cosmetics company globally

36 brands,

150 nations, and

88,000 employees
The Company's brands are continually updating to stay precisely in sync with customer preferences. Hence every year, we add to our collection to include new markets and regions and to meet changing consumer expectations.
9. Philip Morris International
Philip Morris International is driving a transition in the tobacco industry to create a smoke-free future and eventually replace cigarettes with smoke-free goods. This will benefit people who may otherwise continue to smoke, society, the business, and its shareholders.
Cash flow: $29 billion

Nation: The United States
The company's collection of brands is led by Marlboro, which is the most popular cigarette in the entire world. However the company's best-selling reduced-risk product, IQOS, is frequently advertised with heated tobacco units under the brand names HEETS or Marlboro HeatSticks. Profit from strong pricing power based on the strength of your brand portfolio.
The company's global manufacturing footprint is well-being with 46 facilities. Additionally, FMCG Brands has partnerships with 38 third-party cigarette hand-rolling businesses in Indonesia, the largest tobacco market outside of China, as well as 25 third-party producers in 23 markets.
10. Danone
Four of the company's businesses—Essential Dairy and Plant-Based Products, Early Life Nutrition, Medical Nutrition, and Waters—have grown to be global leaders. The company ranks 10th among the top global FMCG brands.
Fresh dairy products and plant-based foods and beverages are two separate but related pillars that the company offers. Fresh dairy products, particularly yogurt, were Danone's original line of business when it was there in 1919 in a pharmacy in Barcelona. They are local, organic, and fresh.
Income: 28 billion dollars

Continent: France
Natural or flavored beverages manufactured from soy, almonds, coconuts, rice, oats, and other such ingredients. As well as plant-based substitutes for yogurt and cream, are all included in the plant-based food and beverages range that was added with the acquisition of WhiteWave in April 2017. (cooking products).
Danone wants to grow and promote the plant-based category globally through this acquisition. Hence the business is on the list of top fast moving consumer goods companies worldwide. (FMCG Businesses)
So, based on global sales, these are the Top 10 Biggest fast moving consumer goods companies in the World.
Read more: List of (FMCG)fast moving consumer goods companies in India
Heading Sub Title
Conclusion
The fast-moving consumer goods (FMCG) sector has very powerful brand recognition in the marketplace. It produces strong, steady growth and development because of its fantastic strategies and plans. One of the most developed and well-liked sectors is FMCG. It demands a distinct business strategy to win the necessary consumer support. However some of the most well-known brands in the world are part of the FMCG industry, and they have shown their success in the marketing sector. Also for a better understanding of the FMCG sector, you can simply reach out to Myanmar Golden Heart.