Heading Sub Title
Introduction:
COVID-19 has disrupted the functioning of a lot of markets, industries and small businesses. Because there were few home delivery alternatives, individuals did not have access to both essential and non-essential things online. It has stopped the market from moving and interfered with how the economy typically operates. Businesses and industries have suffered significant losses as a result of the Covid-19 and the fact that the nation has been under lockdown since mid-March. However, it has been observed that this pandemic has had a significant impact on consumer spending behavior, especially in the FMCG market. While some traders have reacted favorably to it, others are implementing new strategies and technologies to reach as many customers as they can. Myanmar Golden Heart is one of them and working consistently.
Now, this has left a huge impact on the FMCG market. Truth be told, it will stay here for a long duration of time. Some are still managing to stay alive in such a depressed market, while others are finding new ways to overcome the market obstacles. By continuing to trade and interacting with customers in novel ways, they are making an effort to achieve this. Even some firms have been forced to close their doors after experiencing severe difficulties. This immense crisis has forced the businesses to innovate or discover new ways to operate in the market. In addition, they need to adopt new measures to exist in the market surpassing all ill side effects.
Heading Sub Title
What exactly does the Fast Moving Consumer Goods (FMCG) sector entail?
Consumer packaged goods, or CPG, or fast-moving consumer goods, is another name for the FMCG sector. Because the consumer sector is expanding—it is the UK's fastest-growing sector and a multibillion dollar industry—FMCG production is crucial. In both rich and developing nations, almost everyone makes a daily purchase of an FMCG product.
Heading Sub Title
FMCG Trends
Because consumer preferences and lifestyles are always changing, the fast-moving consumer products market is developing at an extraordinarily quick rate. The largest FMCG producers are aware of how crucial it is to stay current with both technology and informational trends. And according to Myanmar Golden Heart it's not just the products anymore—factors like package kinds, personal health, and a whole lot more now influence FMCG consumers' decisions. One of the most crucial things for an FMCG company is to stay on top of the FMCG market, always changing and expanding trends. The following three trends are crucial for the fast-moving consumer products industry and can help manufacturers hasten organic growth.
Read more: Fast-Moving Consumer Goods (FMCG)
Heading Sub Title
Prioritizing sustainability
One of the most important new trends in FMCG is sustainable practices. Consumers are becoming more conscious of how their consumption affects the environment both in the UK and globally. This indicates that customers are increasingly seeking out consumer items made responsibly by businesses that make sure to minimise their environmental impact. This is particularly true of younger customers, who frequently look for the most environmentally friendly solutions for fast-moving consumer products to maintain as green a lifestyle as possible, demonstrating that this trend will develop more in the future.
Heading Sub Title
Expansion into e-commerce
A booming e-commerce sector was driven by the COVID-19 epidemic. E-commerce was crucial for brand durability, which supported FMCG sales' continued strength. Because it enables a direct link between the producer and the consumer, e-commerce is still crucial to the business even after the uncertainty of lockdown. This relationship can promote FMCG sales and brand loyalty while also promoting organic growth. E-commerce also has the potential to lower the expenses related to conventional marketing and distribution methods. A manufacturer's market share may even rise as a result of their expansion into online sales.
Heading Sub Title
Increased focus on customer experience
Leading FMCG producers are enhancing customer experiences to foster brand loyalty and increase revenues. E-commerce and sustainability are factors in this as well because businesses are advertising their CSR initiatives and making it simpler for shoppers to access information about their products online.
Additionally, many FMCG producers are deciding to use cutting-edge tools like chatbots and online incentive programmes in an effort to enhance customer service and build enduring loyalty programmes.
Heading Sub Title
FMCG Products
The FMCG sector offers a wide range of services, including FMCG manufacture, distribution, and retailing. The products in this category are known as FMCG because they are frequently purchased by consumers and move quickly from the retailer to the consumer. This industry's products typically have great volume but low prices.
Food, soft beverages, confectionery, toiletries, over-the-counter medications, and household products are among the common product categories in this sector. As a result of how quickly these products fly off the shelves, refilling is essential for both retailers and manufacturers to prevent lost sales opportunities and ROI. Feel free to contact Myanmar Golden Heart for any kind of purchase related to FMCG.
Heading Sub Title
The Changing Landscape
This pandemic has resulted in an unheard-of increase in online FMCG sales. Since most firms are inactive, the FMCG sector has emerged as the current essential good. This, together with the social distancing rules that have been established, has encouraged consumers to adopt online grocery shopping.
Heading Sub Title
Present Situation
According to IBEF figures, the fourth-largest sector of the Indian economy is fast-moving consumer goods (FMCG), which are split into three primary groups. Food and drinks is one of them, making about 19% of the industry. Healthcare comes in second with 31% of the market, followed by household and personal care with the remaining 50%.

Due to the Covid-19 pandemic, roughly 50% of US consumers have purchased groceries online, 14% of whom are first-time users. As a result, businesses all throughout the USA have increased their inventory to keep up with demand for online groceries. Similarly, it is expected that online FMCG sales in India will rise by 4-5% this year.

However, it has been noted that during India's prolonged shutdown, demand for groceries and household items soared, which helped the FMCG business in the e-commerce sector. In the midst of the pandemic, the conditions in India had an impact on the FMCG sector, which is likely to grow by about 5–6%, taking COVID-19 results into account.

This sector differs from others due to the basic requirements of the average person. Innovations and modifications are necessary in the FMCG sector, as consumer preferences are changing quickly, to draw in potential customers. In the struggle to draw clients, businesses that quickly adapt to changes and modify their offerings to meet customer needs typically prevail.
Heading Sub Title
Pandemic & Economic Turmoil – Impact On eCommerce Industry
The impact of COVID-19 on the national economy was negative from March to May. Complete lockdown was imposed, which resulted in mayhem and panic buying. The supply chain also experienced a significant setback and numerous issues, including product shortages, delayed delivery, damaged goods, and many more. Encourage customers to select eCommerce as a result.

According to a recent Nielsen survey, consumers increasingly shopped from e-grocers, driving up the statistics of online FMCG sales to 50% in the March quarter-month, while local grocers' market share dropped by 220 basis points. As a result, it is likely that both the supply and demand from the stores will increase more quickly.

The Covid-19 crisis has strengthened the FMCG market and is likely to improve rules governing online supply and purchase. Small businesses, distributors, and consumers of all types have developed on their own, and 70% of users are willing to use the web platform after the pandemic.

Online platforms are now providing more opportunities for FMCG companies to reach their clients and expand their network, which is crucial for many of them. In addition to the business to consumer (B2C) modal, the business to business (B2B) modal is also productive for wholesalers, distributors, and retailers.
Heading Sub Title
How is e-commerce boosting the FMCG industry?
E-commerce has a better chance of being in the spotlight when it comes to how people purchase in the post-corona world, who still want to avoid crowded areas for security reasons. The websites and online shops selling FMCG products and goods may benefit more as a result. Nevertheless, a lot of e-commerce websites have started to deliver FMCG goods after discovering the value of doing so in trying circumstances. Additionally, Myanmar Golden Heart has demonstrated their online presence by offering home delivery in response to the epidemic through their retail applications.
Heading Sub Title
Concerns:
There are a million concerns a business owner has to deal with in order to stay afloat in the market. Hence, they have to prioritize time and resources over every other concern. They have to make sure the employee does not lose their jobs. In addition, business continues to work and does not have to face a shutdown. There have been certain initiatives from the government to curb the ravaging impact of the virus on the daily life of the people and on the economy as a whole. It requires certain financial measures and financial support to ensure the businesses and individuals continue to function. The government even has to make sure that public safety is in place along with employees not losing their jobs. Also, the businesses stay open and survive the crisis strangling their survival.
FMCG accounts for a huge income generation and employment generation in a country. The pandemic has halted the growth of the FMCG market. Even the existing market is getting disrupted due to the virus impact. But the demand for household items and grocery items have increased due to the pandemic. It has led to a shift in the consumption pattern of consumers. The strict lockdown has brought all the economic activity to a standstill. It has impacted the disposable income in the hands of the people. With the extended consumption pattern, it gave rise to the demand among the consumers with no disposable income in hand. Because all the manufacturing units had been closed and were at a standstill. The growth of the FMCG market has reduced from earlier targets due to the above reasons. People losing their jobs continuously demand increasing simultaneously with decreasing disposable income.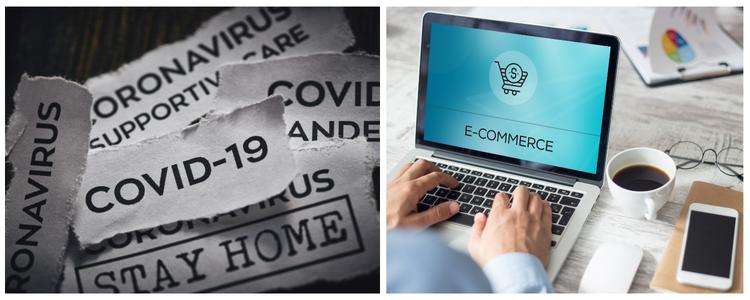 Heading Sub Title
Introduction of E-commerce:
E-commerce has a higher contribution to the metro cities and other cities are also adopting modern trade and e-commerce platforms. The severe lockdown on the supply and demand of goods has had a significant impact on e-commerce platforms. They have resulted in delivery delays or complete cancellation of orders. Not only has the economy been disrupted by the ravaging impact of the pandemic but also several other challenges were faced in this period. Other challenges like prices have been inflating to irrationally high levels, product safety concerns, deceptive and heinous practices. However, there were other concerns and the necessity of social distancing, lockdowns and other obstacles on the way. Therefore, buyers got another reason to buy the things of daily needs via e-commerce websites. This gave a rise and further boom to the E-commerce websites.
Heading Sub Title
Impact of Covid-19:
Because of social distancing and the resulting varying shopping behavior of more customers in avoiding crowding places due to social distancing norms and safety reasons, e-commerce is likely to expand its reach in all classes of people. Online grocery and gourmet foods shopping websites and retailers have been getting increasing traffic on their sites. Since the lockdown, people are getting familiar with online websites now. Major shopping websites are busy in the delivery of essential commodities because people are avoiding spending on non-essential commodities. The exploding demand for essential goods have brought in new industry players, and retail stores launching themselves online with apps. In addition, initiating tie-ups with the logistics company for home deliveries.
The impact of coronavirus will further bring new policies for online purchases and supply in the picture soon. It has even given a path for the entrance of many small businesses into the market. Even partnership in e-commerce activities by small producers, manufacturers, retailers and consumers have increased. For several FMCG companies, launching online on e-commerce platforms has become important for building networks. By initiatives like direct home deliveries or store deliveries, customer backhauls and nurturing partnerships with delivery platforms in the tech industry or such applications. E-commerce boosts in enhancing and developing business to customer deliveries. Also, it boosts even business to business delivery when it comes to distributors and retailers directly.
Heading Sub Title
Conclusion:
This pandemic will have long-term impacts on the behavior of the customer as this pandemic has stayed for a long time with us. People have become used to purchasing commodities sitting back at home. This has even brought a sense of comfort for the customers to receive everything in-home deliveries, and not spending time on going out and purchasing in a queue. They now need new strategies and policies to adjust to the current trends.
The same is true for FMCG businesses; they must adjust to the external environment and take into account customer consumption patterns. FMCG companies need to connect to their customers through online websites. They also need various online platforms to stay in touch and grow in the 'new normal'. If they want to sustain in the market and get along with the new changes without drowning in the disruption created by the pandemic. Then, the FMCG companies need to uplift their working procedure to take the situation in its advantage. Myanmar Golden Heart is one the best FMCG companies that deals with all kinds of products related to the FMCG sector.
Heading Sub Title
Summarizing
Consumers' shopping habits have clearly changed as a result of the pandemic. Online shopping is becoming the new norm, and people appear to actually love it. People are attempting to avoid stepping out in public and keep a social distance.
However, with so many merchants using this approach, consumers are left to demand better and more, making it a continual process of engagement and involvement. To survive in the long run, FMCG companies may adjust to any changes based on consumer needs and behaviors. The industries who adapt and demonstrate adaptability the quickest will have the greatest market benefits.
Myanmar Golden Heart is one such company that has adjusted to the new Covid-19 norms. They give full assurance of safety to their clients. Their amazing relationship with their clients and consumers have helped them in reaching a leadership position in the industry.