Heading Sub Title
Table of content
Introduction

Furnishings

Linen

Crockery

Glassware

Tableware

Miscellaneous

Disposables

Trolley

Chafing Dishes (Chafers)
Heading Sub Title
Introduction: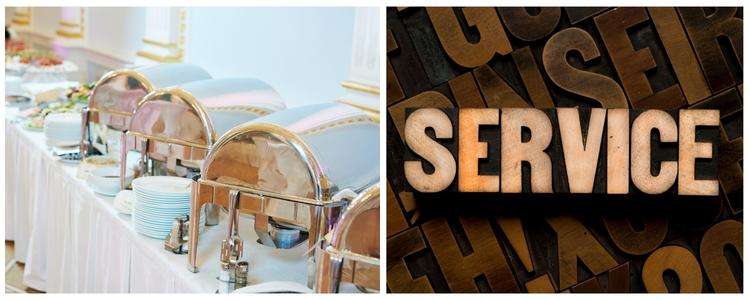 All furniture equipment is included in the category of food restaurant equipment. Both visitors and workers utilize linen, cutlery, crockery, glassware, and other items in the service area. The market offers a wide variety of restaurant equipment to meet the needs of various types of foodservice companies.
According to MGH Distributors, the right restaurant equipment can improve the customer experience, enhance the store's motif, and improve patron mood. The following is a list of food and restaurant equipment.
MGH Distributors: We distribute goods related to hotels, restaurants and bars with ease.
1. Furnishings
There are a wide variety of shapes, sizes, materials, colors, textures, and patterns for dining room furniture. When choosing them, consideration must be given to all of this restaurant equipment. in order for the furnishings to complement the design of the dining room. The majority of the service area is taken up by furniture, therefore this should be carefully organized to make the most of the available space.
Food service furniture types
Table

Chair

Sideboard
Table
Typically, restaurant tables are split into two sections:
Tabletops: These are available in a variety of sizes, forms, and materials, including wood, mica, glass, and stone. Due to their posh appearance, woodentops are frequently used in fine dining establishments.
Tablebases: These are the bases that hold the posts of the tables, and they come in a range of designs that are chosen to best compliment the theme and layout of the eating room. Tables with round bases appear to have more space underneath.
Chair
Types of chairs used in Food service:
Wood frame chairs: offer a unique style and give the venue a feeling of tradition and refinement. Steakhouses, family-style dining establishments, and fine dining establishments all prefer using wooden chairs. The natural hues and grain of the wood give the motif a refined and classy accent.
Metal chairs: Compared to wooden chairs, they often portray a more contemporary and streamlined appearance. A range of seat covers and backrest covers are available for painted metal restaurant chairs.
High chairs and booster seats: For children, high chairs and booster seats are a requirement in the majority of restaurants and food service facilities. High chairs are available in a range of colors and finishes in both wood and plastic.
Banquet chair: The chairs should be durable, comfy, stackable, and sturdy because they will be moved around a lot.
The typical chair sizes are:
Chair height, measured from the floor to the seat, is 18

Depth of the chair 18
3. Sideboard (Dummy waiter)
Without a sideboard, restaurant staff will not be able to provide speedy service or work effectively. It has every piece of cutlery, hollowware, menu card, check-book, and dipping sauce required for service.
The sideboard houses the following items:
Soup spoons

Fish knives and forks

Dessert spoons and forks

Large knives and forks

Service spoon and forks

Tea and coffee spoons

Underliner

Glassware

Napkins

Sugar bowls with tongs

Cups and saucers

Cruets

Ashtrays

Paper napkins

candle stand

trays
2. Linen
Tablecloths, napkins, and tray cloths are all covered by the linen in the food service area. tea towels, waiter's clothes, buffet cloths, and slip cloths. Various types of linen are used in restaurants and food services.
Tablecloth

Napkins

RoseSlip cloth

Tray cloth

Buffet cloth

Satin cloth

Tea cloth
Tablecloth:
To improve the dining environment, tablecloths are placed on all tables with hardwood tops. With the help of tablecloths, simple tables can be rapidly turned into formal dining seating. In restaurants that serve excellent dining, tablecloths are typically used. The tablecloth's color must complement the interior's color scheme.
Napkins:
These are provided for guest use and are typically folded at each cover, unfolded, and spread across guests' laps by either the server or the guest. There are many appealing color options for napkins. For optimal management, Corriander Leaf suggests that each restaurant uses napkins that are a different color.
The typical napkin size are:
For lunch, 18 18

20 × 20 For dinner
Restaurant napkin folding techniques vary:
Bishop's miter

Cock's comb

Cinderella shoe

Cone

Candle

Fan

Sail

Pocket
RoseSlip cloth:
During procedures, the RoseSlip cloth is used to cover the stained tablecloths. The cloth's size should be sufficient to cover the table's surface with a fall of a few inches. Compared to the material of the tablecloth, this cloth is thin and washable frequently.
Waiter's cloth:
The waiters frequently use this cloth while serving customers. When necessary, this towel is used to wipe the edges of the plates. This cloth is folded and kept underneath the dish while bringing dishes to the table.
Tray cloth:
To improve the presentation and provide a firm surface for carrying objects, One should line all trays and salvers with tray cloths.
Buffet cloth:
To cover the buffet tables, food service businesses use buffet cloths in a variety of sizes.
Satin cloth:
The front of the buffet table is covered with a satin cloth, mostly to hide the leg and beautify the buffet counter.
Tea cloth:
Only used for cleaning utensils and crockery. The cloth needs to be often replaced and lint-free.
3. Crockery
All chinaware or earthenware objects, such as plates, cups and saucers, pots, and vases, fall under the category of crockery. The various varieties of chinaware on the market are here. Many crockery types are used in the serving of food and beverages:
Earthenware

bone china

Porcelain

Stoneware
Earthenware:
25 per cent ball clay, 25 per cent kaolin clay, 15 per cent china stone, and 35 per cent flint are all used in its construction. Earthenware has the advantage of being less expensive, but it is also heavier and more readily broken or chipped.
bone china:
Bone china consists primarily of 50% calcium phosphate, 25% china clay, and 25% china stone. It has transparency and strength. It is highly pricey and has a lovely appearance. Manufacturers now offer dishes that resemble bone china but are less expensive. These dishes are sold under a number of brand names, including Vitrex, Vitrock, Steelite, and others. They are less expensive than bone china and more durable than earthenware.
Porcelain:
50 per cent china clay, 25 per cent quartz and 25 per cent feldspar make up the material (aluminosilicate mineral). It has a grey or blue hue and is translucent and vitreous. It is useful in dishes from the oven to the table.
Stoneware:
It is extremely hot-fired vitreous pottery that is robust, hard, and durable. It is sturdy and available in vibrant colors, making it ideal for eateries that demand vibrant color tableware.
Various kinds of crockery with their size and use:
Quarter plate:
Size: 6'' D
Uses: Bread, cheese, underliner for bowls
Half plate/fish plate/dessert plate:
Size: 8''D
Uses: Fish, pasta, and savory, sweet, and dessert
Full plate/Dinner plate/joint plate:
Size: 10'' D
Uses: Main course
Soup plate:
Size: 8'' D
Uses: For thick soup and breakfast cereals
Soup cup:
Size: 250ml
Uses: For thin soups, also known as consommé cup
Soup bowls:
Size: 250ml
Uses: For thick and thin soups, breakfast cereals
Breakfast cup:
Size: 250-300ml
Uses: For all tea and coffee served during breakfast
Teacup:
Size: 200ml
Uses: For tea and coffee served during the day
Demitasse:
Size: 100ml
Uses: For coffee served after lunch and dinner
Saucer:
Size: 4'' D
Uses: Used as an underliner
4. Glassware
Food service equipment must make a significant investment in delicate and fragile equipment since they use a range of glasses for various drinks.
The type, caliber, and sparkle of glass that reflects the character of the eatery. The beverages presented in a glass determine its name. Even if there are numerous glasses for various drinks, it is preferable to stick with a small selection of glasses that might work for all types of drinks.
Classification of glassware according to their parts:
Stemware

footed ware

Tumbler
Stemware:
A stemless bowl lacks a foot or stem. Its sides may be straight, expanded, or curved. Examples include the juice glass, old-fashioned, highball, and Collins.
Footed ware:
In this style, the bowl doesn't have a stem; it simply rests on a base or foot. The shape of the bowl and base might vary. Brandy balloon and a beer goblet, for instance.
Tumbler:
Glasses with a stem, base, and bowl are referred to as Tumbler. The stem on this kind of vase connects the bowl to the base or foot. Let us take an example of Corriander Leaf that includes red and white wine glasses, champagne flutes and saucers, cocktail glasses, and so on.
5. Tableware
Tableware includes all flatware, cutlery, and hollowware items:
Flatware:
In the context of catering, "flatware" refers to all types of spoons and forks.
However, In the hotel sector, the phrase "cutlery" is widely used to refer to the spoons, forks, and knives used for eating.
Cutlery:
All knives and other cutting implements that are useful in the eating area are referred to as cutlery. Cutlery is available in a variety of designs in both silver and stainless steel.
Holloware:
Other than cutlery, this term applies to all dinnerware. Pots, jugs, platters, a buffet dish, finger bowls, a wine cooler, and a straw holder are all included.
Silverware:
The silverware consists of nickel silver electroplated (EPNS). However these consist of brass, zinc, stainless steel, or nickel alloy with a 10–15 micron layer of silver plated on top. Spoons, forks, knives, hollowware, drinkware, tongs, an ice bucket, and a salver are all examples of silverware.
Different types of cutlery and their uses:
Soup spoon:
Uses: For thick soups
Dessert spoon:
Uses: For thin soups, breakfast cereals
Service spoon and fork:
Uses: Transferring of dishes from the container onto the guest's plate
Teaspoon:
Uses: Tea, coffee, juice served with accompaniments, fruit cocktails, sweets served in coupes or glass bowls
Coffee spoon:
Uses: For coffee served in demitasse after lunch or dinner
Egg spoon:
Uses: Used with boiled eggs (smaller than a teaspoon and bigger than a coffee spoon, teaspoon maybe used in place of egg spoon)
Side knife:
Uses: Placed on the side plate for bread, toast, rolls, cheese
Fish knife and fish fork:
Uses: For all fish dishes, hors d'oeuvre varies
Small knife and fork:
Uses: Vegetable, savoury, and meat dishes if not served as the main course
Steak knife:
Uses: For steaks (serrated edge)
Dessert spoon and fork:
Uses: For all pasta and rice except for spaghetti, for sweets
Fruit knife and fork:
Uses: For dessert (small knife and fork may be used in place of fruit knife and fork)
Large knife and fork:
Uses: For the main course
Dessert spoon and table fork:
Uses: Spaghetti, the spoon is right there in the left and the fork to the right
Sundae spoon:
Uses: Ice cream or any shakes with ice cream served in a tall glass
Ice cream spoon:
Uses: For ice cream served in coupes, most hotels use a teaspoon in place of ice cream soon
6. Miscellaneous
Trays, salvers, water jugs, bread baskets, butter dishes, cruets, bud vases, menu stands, and other items are some examples of miscellaneous.
7. Disposables
Although the extent of use varies, disposables are widely available in all sorts of catering companies.
Food service equipment that employs disposables includes:
Airline catering

Commercial catering

Fast food restaurants

External catering

Coffee houses

Takeaway stalls
To lower labor and laundry costs, initial investment, and breakages, use more disposables.
Hence to meet the needs of caterers, a broad variety of disposables are available in various colors, sizes, quality, and costs.
Tablecloths are replaced by coasters and disposable placemats for banquet tables. However disposable cutlery and china are used in place of traditional spoons, knives, and forks. Cloth napkins are replaced by paper ones. Food portions are wrapped with cling film. In takeout, food is wrapped in aluminium foil to keep the heat in.
8. Trolley
In the Food service department, trollies are utilized for both serving and storing. Hotels frequently mention a mobile service. It is also employed in high-end restaurants and bars to serve visitors, allowing dishes to be dressed, prepped, carved, and flambéed right in front of them at their tables.
It features several shelves, compartments, and burners. Hence the most crucial component of the Corriander Leaf's service is the trolley. However examining some of the trollies utilized by the our service:
Salad trolley

Food preparation trolley

Carving trolley

Flambe trolley

Sweet trolley

Cheese trolley

Liqueur trolley
9. Chafing Dishes (Chafers)
Chafing dishes, which are part of the food service equipment category, are necessary for keeping meals hot and guaranteeing food safety in any food company. However the banquet department uses chafing dishes the most in Corriander Leaf. So now consider some of the chafing dish varieties utilized in Food service equipment:
Marmite Chafers

Coffee Chafer Urns

Standard Chafing Dishes

Disposable Chafing Dishes

Drop-In Chafers:

Chafer Griddles