Heading Sub Title
Table of content
What are FMCG or Fast Moving Consumer Goods?

Fast moving consumer goods list

What Constitutes FMCG or Fast Moving Consumer Goods?

Challenges Faced by FMCG Firms

That is what makes the industry so special

This is how the FMCG food segment ticks

This is how consumers think of personal care and hygiene products

The Push and Pull and Strategy

A Balance Between the Two
Heading Sub Title
What are FMCG or Fast Moving Consumer Goods?
Understanding FMCG's fundamental definition is essential to fully grasping its importance. FMCG products are inexpensive and sell quickly. These include packaged items and perishable goods, as examples. They move quickly, as their name would imply. FMCG products quickly disappear from stores once they are available due to their high demand and perishable nature.
Heading Sub Title
Fast moving consumer goods list
Processed foods

Prepared meals

Beverages

Baked goods

Fresh foods, frozen foods, and dry goods

Medicines

Cleaning products

Cosmetics and toiletries

Office supplies
Heading Sub Title
What Constitutes FMCG or Fast Moving Consumer Goods?
Products that fall within this category are broadly categorized. In a grocery or convenience store, almost everything is a fast-moving consumer good. This covers consumables like toiletries, drinks, OTC medications, and food. Because they are essentials, fast-moving consumer items are used and in demand at a high rate. Therefore, something is a fast-moving consumer good if it is utilized frequently or on a daily basis.
Heading Sub Title
Examples of Fast Moving Consumer Goods (FMCG products): Selling Fast Moving Consumer Goods using QR codes
Heading Sub Title
Beverages
FMCG beverages can be flavored beverages or just plain water, as well as bottled, canned, and boxed beverages. Because everyone has to drink and they have an expiration date, groceries are quickly out of stock.
Heading Sub Title
Packaged food (ready-to-cook meals/snacks)
All food has an expiration date, so it must be thrown away as soon as possible. Everyone also requires food, whether it be snacks or a quick dinner that is ready to eat, just like they do with beverages.
Heading Sub Title
Toiletries
Toiletries can be maintained on the shelves for a while and do not expire. However, because they are necessary, they are in high demand and don't remain on the shelves for very long. This contains toilet paper, soap, shampoo, facial wash, toothbrushes, and a whole lot more.
Candies have a short shelf life and a quick turnaround time due to their low cost and the satisfaction they offer.
Heading Sub Title
Cosmetics
For the majority of people, cosmetics like makeup and beauty items have become essential. Products that are in high demand and move quickly include:
Hair dye

Bleaching products

Nail polish
Heading Sub Title
Over-the-counter Drugs
Non-prescription medications and vitamins are essential. Everyone requires supplements to support their bodies in daily life because everyone gets sick.
Heading Sub Title
Dry goods
Who could forget about the most vital components of every kitchen? Every family needs certain dry products, such as: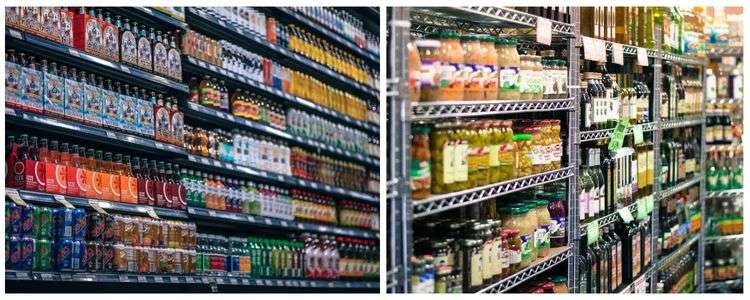 Heading Sub Title
Challenges Faced by FMCG Firms
Heading Sub Title
Challenge #1: Managing Big data
It is essential for FMCG companies to equip field sales representatives with the tools they need to provide consumers with the pertinent information in this technologically advanced and competitive market. Since FMCG companies must store and analyze a lot of data, managing the data in those organizations is a significant difficulty.
Data on brand tracking, weekly consumer sales, retail shopper data, consumer panels, and other information must be stored by the FMCG company. 95% of the information collected is meaningless and is included in the data pool. The wiser firm must make sure that only pertinent data is purchased and that the proper link to consumer behavior has been established.
Heading Sub Title
Solution:
According to  Myanmar Golden Heart, the proper information acquired can be used to create products, control trade, and deliver efficient customer service. It's crucial that FMCG companies adjust to new technology developments. to maximize their sales process and leverage themselves. Among the prevalent worries are,
Inventory control and warehouse management

Accurate sales judgments using information on client buying patterns

Individual client experience

At many stages of the consumer journey, marketing automation is used to raise awareness and encourage purchases.
Heading Sub Title
Challenge #2: Lack of Efficient selling scenario
The FMCG market always changes as consumer purchasing patterns do. Understanding the successful selling scenario is essential for forecasting future patterns and making timely, precise judgments.
Field sales experts can examine and improve the effectiveness of the FMCG selling scenario with the use of efficient tools and advanced technologies.
Heading Sub Title
Solution:
There is a variety of software on the market that could assist FMCG management in enhancing selling scenarios in a number of ways, including,
Calculating the return on investment of their field sales approach

Finding new channels to boost sales goals

Having access to the workflow system in real-time

More accurate sales forecasting

Recognize missed opportunities

Examining each field's field sales aim
FMCG firms can take advantage of these difficulties and achieve the most profits and productivity by automating the sales staff with the best sales force automation software. You can also get in touch with the  Myanmar Golden Heart, they will surely provide you the best possible solutions.
Heading Sub Title
Challenge #3: Proper Retail Execution
One of the sales tactics to increase sales in the store or venue with certain regulatory requirements is retail execution. It ensures how precisely the product needs to be in the store in order to boost the income of the product. Most of the stores are closed as a result of the epidemic and lockdown. Additionally, many stock up on necessities by purchasing them. The businesses' shelves are now empty as a result of this. The poor retail execution plan resulted from this. To carry out the ideal retail strategy, it is essential to reconsider their customer wants.
Heading Sub Title
Solution:
The store needs to develop a solid plan of retail execution that covers order replenishment, trade promotions, shelf merchandising, store audits, and more. With effective retail execution, sales must be raised to new heights.
Heading Sub Title
Challenge #4: Social Media
Since the emergence of social media, information has spread quickly. Without innovations, market expansion is difficult. Customers can quickly obtain information by conducting a google search. No place to conceal the goods.
Heading Sub Title
Solution:
For the current demand, you must modernize your items. CRM that integrates social media gives you a 360-degree view of the customers for the products. Using the advent of digitalization, it is simple for clever brands to go global with cutting-edge approaches.
Heading Sub Title
Challenge #5: Environment & Sustainability
The main concern that must be taken into account is sustainability. Industrial wastes threaten our environment, so it is up to us to safeguard our natural health and follow environmentally friendly habits.
The FMCG industry is not immune to contentious environmental degradation practices. FMCG firms should spend on R & D because they have a significant impact on greenhouse gas emissions. Despite the fact that FMCG firms struggle with environmental responsibility in terms of manufacturing, waste management, and packaging, some steps have been implemented to limit the amount of degradation; however, further development is needed for a safe environment.
Heading Sub Title
Solution:
Today's savvy shoppers like brands that have an emphasis on sustainability. Strong consumer bonding scores, however, will be advantageous for sustainability throughout the ecosystem. To ensure sustainability, innovation and technological advancements must still be made in the FMCG industry.
Read more: Career growth in FMCG
Heading Sub Title
That is what makes the industry so special
Fast Moving Consumer Goods (FMCG) have their own unique quirks, just like every other industrial sector does. In 2020, Nestlé, a market leader, generated sales of almost £2.2 billion in the UK alone and close to £67 billion worldwide. Since the online sector has been expanding for years and now accounts for £99 billion in retail sales in the UK alone, it is extremely competitive. Therefore, newcomers to the market need to be ready for a variety of difficulties:
Heading Sub Title
Saturated market:
There is intense competition in every market category as numerous multinational firms vie for market share in the FMCG industry. Smaller and more recent businesses are now pushing their goods onto the market. Due to the overwhelming number of competing items and what appears to be an oversaturated market, joining this market is incredibly challenging. Therefore, new brands and products have a slim possibility of making an impact on the competitive market and long-term establishment.
Heading Sub Title
Brand traction:
In any industry, brand preference and brand strength are crucial success elements. They have an even greater impact on FMCG. Certain brands and items are preferred by consumers; these purchases are occasionally made unintentionally. To get consumers to change their routines and become familiar with new products is a challenge for new brands.
Heading Sub Title
Private label competition:
Manufacturers aren't the only ones who seek to sell a lot of their items by positioning them prominently in supermarkets. Additionally, supermarkets like Tesco and internet retailers like Amazon are launching private labels under their own trademarks. This puts more pressure on both new businesses and well-known firms to innovate. The difference between success and failure might consequently be determined by a precise positioning plan. Put your attention on sustainability as a means to differentiate yourself from the competition.
However, if you are aware of these difficulties, new items may be developed and companies can be transformed into beloved brands thanks to the spirit of innovation and creative sales.
Heading Sub Title
This is how the FMCG food segment ticks
Heading Sub Title
Many consumers are open to new ideas:
Although there is fierce competition in the industry, many customers are open to new products: In the previous four weeks, over half of consumers (47%) had made a new product purchase (at the time of the survey). Young people in particular love to try new things: Four out of every five students (78%) and people aged 16 to 24 (75%) purchased a new item when shopping within the previous four weeks.
Heading Sub Title
Food great, cosmetics flop:
The circumstances for evaluating new items vary depending on the market niche. When it comes to food, many customers are especially interested in variety: respondents who made a new purchase in the previous month most frequently bought food (37%), sweets or snacks (27%) and frozen goods (26%). There was less interest in new hygiene goods (14%), cosmetics (15%), and hair/body care items (16%) among those surveyed.
Heading Sub Title
Personal recommendations beat traditional advertising:
Why do people try out new products? Grocery brands advertise their goods everywhere, on social media, in public places, and through a variety of other media. However, the study found that in-store product displays (30%) came in second place to personal recommendations from acquaintances (25%). Trial campaigns and incentives (23%), while posing little risk to buyers, frequently entice people to test out new products.
Heading Sub Title
Online boom not in the food sector:
The food industry initially appears to have little influence, despite the fact that many consumers and businesses are converting to digital purchasing channels and generally placing more orders online (not the least due to the corona pandemic). Only 28% of respondents say they could never foresee ordering food online. In actuality, this is a purchasing tendency that is consistent across all age groups.
Heading Sub Title
Classic distribution of roles:
The Appinio study posed the question, "Who is accountable for purchasing?" in the midst of the corona pandemic. Compared to men, women are more likely to shop (81 vs. 72%). The supermarket is always the preferred spot to shop, whether it's for dairy products, spreads, fruit & veggies, or snacks & sweets. Only when it comes to meat do Brits more frequently accept the knowledgeable counsel provided by a speciality store like a butcher.
Heading Sub Title
Go's & No-Go's:
Numerous factors influence where individuals purchase. The respondents ranked cleanliness (91%), product variety (91%), and accessibility to work or home (86%) as the three criteria that were most crucial. Loyalty programmes (63%), the presence of a fresh food counter (63%), and the availability of organic product options (47%), while less critical for the decision, are nonetheless significant.
Heading Sub Title
This is how consumers think of personal care and hygiene products
Along with food, the FMCG industry also includes a sizable market of body and hygiene goods, which sees consistently high sales. However, consumers have varied viewpoints when making such product selections and using them. In contrast to food preferences, the representative study Appinio conducted in the UK in June 2021 (by age and gender) with 1,000 consumers:
Heading Sub Title
Supermarkets and beauty retailers as a temple of care
The two places that Brits like to shop for personal care items are supermarkets and health & beauty stores. The majority of respondents visit supermarkets to purchase daily care items like deodorants (53%), shower products (52%), oral and dental care products (55%), and hair care products (48%). The majority of those polled prefer to have instant access to the products (47%) and to be able to test, smell, or physically view them before making a purchase (47%), thus only a tenth of people who were surveyed do so.
Heading Sub Title
Nothing beats the price
The cost is the primary consideration for every second person (57%) when purchasing a product for personal care or hygiene. Personal experience (33%) and skin compatibility (27%) only then come into play. 23 percent of respondents, or one in five, think about the brand.
Diverse offers (5%), a product's vegan status (4%), and labels or certificates (3%), on the other hand, are less significant.
Heading Sub Title
Information on ingredients divides respondents
Almost three out of five people (58%) believe that the use, listing, and justification of ingredients in the care and hygiene product industry is transparent. The majority (77%) also believes that the industry considers the diversity of individuals and their various requirements.
Heading Sub Title
Personal recommendations remain the best selling point
Similar to how recommendations from friends are important when trying new foods, 30% of those surveyed said that this was the key factor in their decision to explore a new product. Additionally, to excite customers about a new product, TV commercials and direct in-store advertising (30 and 31 percent, respectively) are effective. The least effective forms of advertising are those seen on signs and billboards (5%), on the radio (6%) and in print media (7%).
Heading Sub Title
The Push and Pull and Strategy
Depending on their market and the challenges they confront in each demography, various businesses employ various marketing tactics. However, they use either the push or the pull method in the most fundamental notion.
The push marketing strategy implies that businesses push their items in the direction of their clients just from the name. However they achieve this by working with as many wholesalers, distributors, and retailers as possible to stock their products. Products that are displayed on the top shelves are more likely to catch buyers' attention and become their top pick.
This tactic, as straightforward as it might seem, can be used in the competitive consumer goods industry. Keep in mind that certain items have a limited shelf life. It just depends on who gets to sell them first because they are essentials and will be purchased, therefore there is a quick turnaround time.
The entire reverse is true with the pull method. Instead of shoving their products down the throats of the clients, they promote the advantages to pique the curiosity of potential buyers. However retailers start to want these things on their shelves after the bulk of people have started looking for them.
Pull marketing allows businesses to know which places are more likely to be exposed to adverts and have their decisions impacted than push marketing does. Hence this enables the efficient and successful delivery of goods to high-revenue locations.
Heading Sub Title
A Balance Between the Two
There is no superior strategy to the others. Instead of adopting solely one over the other, a corporation may employ a push and pull approach that is balanced. The two ought to always be together. A quick approach to outpace the opposition is to push. The old products get buried and forgotten as new ones are released.
However on the other side, the pull enables businesses to test the waters and focus their efforts solely on validated markets. an approach for developing novel, experimental products. It takes in-depth local expertise to strike the right balance between the two. Which regions are most open to advertising? Where are towns with a high population density and a lot of disposable income? Hence you will get all the answers to your queries with Myanmar Golden Heart.